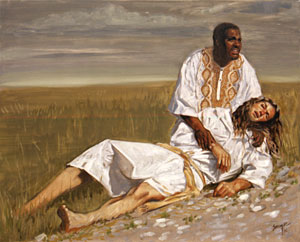 I have been thinking again of the parable of the Good Samaritan. Interesting that we usually consider it from the position of the passers by- the Levite, the Priest and the Samaritan. We don't consider so often what it must have been like for the man who fell among thieves and was left by the road.
When he saw the Levite coming through half closed eyes how his spirits must have leapt- one of his own to help- but no. Ignored and left. Then the priest, and again how full of expectation must he have been that aid and succour were coming his way. Again though, the need was seen, the plight looked at but the ambushed victim could only watch as the priest turned away intent on his own business.
Then the Samaritan comes along , this time his heart must have sunk. No reason why this man should help one not of his own kindred. But that is just where the help does come from.
Don't you think that we traditionalist Anglicans are somewhat in the position of the ambushed man? Left by the margins by the Church of England with an expectation that we will surely perish. We have looked time and time again to our own family to see our plight and help- we have even called out to them. And on Saturday last, the slight help that we looked to receive by the Revision Committee on women bishops has been snatched away before we had the Chance to reach a hand out to it.
The only care and concern has come from a Church which is not our own, has no need to be bothered with us or put itself out for our sake. The Anglican Ordinariate offered by Pope Benedict is the only practical assistance offered by ANYONE. Our own Anglican Levites and Priests are truly "passing by on the other side".
That poor Jewish victim of thieves must have felt doubly wounded beside the desert road. Wounded by the robbers and wounded in his heart by the betrayal of his own, the ones he expected would help.
After Saturday I feel I know exactly how he felt.